Research article

Open Access

Open Peer Review
This article has Open Peer Review reports available.
Decision-making and evidence use during the process of prenatal record review in Canada: a multiphase qualitative study
BMC Pregnancy and Childbirth
2015
15:78
Received: 30 April 2014
Accepted: 12 March 2015
Published: 31 March 2015
Abstract
Background
Prenatal records are potentially powerful tools for the translation of best-practice evidence into routine prenatal care. Although all jurisdictions in Canada use standardized prenatal records to guide care and provide data for health surveillance, their content related to risk factors such as maternal smoking and alcohol use varies widely. Literature is lacking on how prenatal records are developed or updated to integrate research evidence. This multiphase project aimed to identify key contextual factors influencing decision-making and evidence use among Canadian prenatal record committees (PRCs), and formulate recommendations for the prenatal record review process in Canada.
Methods
Phase 1 comprised key informant interviews with PRC leaders across 10 Canadian jurisdictions. Phase 2, was a qualitative comparative case study of PRC factors influencing evidence-use and decision-making in five selected jurisdictions. Interview data were analysed using qualitative content analysis. Phase 3 involved a dissemination workshop with key stakeholders to review and refine recommendations derived from Phases 1 and 2.
Results
Prenatal record review processes differed considerably across Canadian jurisdictions. PRC decision-making was complex, revealing the competing functions of the prenatal record as a clinical guide, documentation tool and data source. Internal contextual factors influencing evidence use included PRC resources to conduct evidence reviews; group composition and dynamics; perceived function of the prenatal record; and expert opinions. External contextual factors included concerns about user buy-in; health system capacities; and pressures from public health stakeholders. Our recommendations highlight the need for: broader stakeholder involvement and explicit use of decision-support strategies to support the revision process; a national template of evidence-informed changes that can be used across jurisdictions; consideration of both clinical and surveillance functions of the prenatal record; and dissemination plans to communicate prenatal record modifications.
Conclusions
Decision-making related to prenatal record content involves a negotiated effort to balance research evidence with the needs and preferences of prenatal care providers, health system capacities as well as population health priorities. The development of a national template for prenatal records would reduce unnecessary duplication of PRC work and enhance the consistency of prenatal care delivery and perinatal surveillance data across Canada.
Keywords
Prenatal care, Prenatal records, Guidelines, Evidence utilization, Decision-making, Context, Population healthPrenatal smokingPrenatal alcohol use
Background
Prenatal medical records have long been considered important tools for the clinical management of obstetrical care, in addition to being vehicles for quality assurance, compensation and medico-legal documentation [1]. As a clinical tool, prenatal records contain prompts and care guidelines for a wide range of physical and psychosocial health indicators over the course of pregnancy, and thus can play a critical role in facilitating the translation of research evidence into obstetrical practice [2,3]. Prenatal records typically include a comprehensive baseline prenatal health history form, risk assessment tools, and additional forms or flow sheets for on-going documentation of care during prenatal visits and childbirth [4]. The records are usually transferred from prenatal care settings to the patient's labour and delivery unit in late pregnancy, and in some settings, the advent of electronic prenatal records has facilitated timely sharing of patient information across obstetrical care providers [5]. Similar to integrated care pathways [6], prenatal records function as both clinical guide and documentation system for prenatal risk factors and interventions, and have been described as "probably the best developed charting system available in medical practice" [4]. Whereas care pathways are typically developed to translate established guidelines for specific conditions into local clinical management protocols [7], prenatal records include a wide range of clinical parameters and are often designed for universal application to state or provincial populations. In addition, prenatal records serve as population health screening tools and sources of data for perinatal surveillance systems, and allow for quality assurance monitoring of compliance with patient care standards [1].
In Canada, health care is constitutionally under the authority of provinces and territories. Maternity care delivery models thus vary across Canada in accordance with local resources, regulatory, educational, and population characteristics [8]. However, each of Canada's jurisdictions (i.e., 10 provinces and three territories) has adopted the use of standardized prenatal records as a mechanism for setting universal prenatal care standards, enhancing communication of patient health information across the perinatal continuum as well as monitoring prenatal risk factors at the population level. In the absence of a national body responsible for perinatal care, 10 jurisdictions have developed their own prenatal record tools and have a government-mandated expert committee responsible for reviewing and updating their prenatal record (the remaining three use prenatal records developed in a neighbouring province/territory). As a result, prenatal records differ in content and format across Canada. We previously found that prenatal records from different Canadian jurisdictions varied markedly in their inclusion of assessment questions and intervention guides related to prenatal smoking [9] and alcohol use [10], despite the availability of evidence-based national guidelines for addressing these modifiable risk factors for adverse maternal and infant health outcomes [11,12]. This raised the broader question of how prenatal record committees (PRCs) accessed and integrated research evidence, particularly around complex social issues such as maternal substance use. Maternal smoking and drinking rates have been decreasing in Canada [13] but remain significant public health concerns given their related risks of perinatal morbidity and mortality as well as longer-term impacts on maternal and child health [14,15].
Despite the widespread adoption of standardized prenatal records in maternity care, literature on prenatal records is virtually non-existent. The only paper found comparing general prenatal record content (dated 1991) revealed that most American prenatal records contained items of traditional medical-obstetrical significance (e.g., medical history, fundal height), as opposed to more "contemporary" issues such as patient education and social risk factors such as smoking and drinking [1]. No studies could be found describing how prenatal records are actually developed, or what decision-making processes may account for variations in their inclusion of research evidence for routine prenatal care. Literature examining the development of other types of decision aids or guidelines for routine prenatal care is also scarce. An Australian study found that local protocols for routine prenatal care varied widely across institutions, were not consistent with national policies or research evidence, and rarely included content on maternal smoking despite good evidence for the effectiveness of smoking cessation interventions [16]. Similarly, a comparison of national prenatal care guidelines from four countries (including Canada) found little consistency in care recommendations within or across countries [17]. The authors attributed variations in the guidelines to differences in the purposes of the guidelines, differences in local health care systems, and the primary use of expert opinion rather than research evidence for guideline development [17].
Broader literature on the development of clinical management tools acknowledges that guideline recommendations are influenced not only by scientific evidence but also by clinical experience, expert opinion, patient preferences and feasibility [18-20]. Group structure and processes have also been found to influence judgments during the development of tools such as clinical practice guidelines (CPGs) and integrated care pathways. These include group size, composition and interpersonal dynamics; availability and quality of the research evidence; group members' skills in evidence appraisal; and personal values, experiences and interests [20-24]. Furthermore, the development of clinical tools that double as legal records of care needs to take into account how the tool will impact charting practices, communication of information and practitioner accountability [6]. Studies of evidence use during the development of local care pathways have highlighted the tension of applying standardized guidelines that will be held as benchmarks of care to complex conditions demanding clinical judgement and individualised patient care [6,25]. On the other hand, decisions about care guidelines intended for more universal or public health application involve broader health policy considerations such as health system costs and resources, political priorities and the needs and values of the population [26,27]. As Canadian prenatal records combine guideline and documentation functions for both clinical and population health applications, they offer a unique set of documents to examine how clinical and population health considerations converge or diverge in this arena of complex decision-making.
We found only one study that examined decision-making processes used during expert group development of clinical guidelines for population-wide application. This study, by Dobrow and colleagues, yielded a conceptual framework for "context-based evidence-based decision-making" to identify contextual influences on evidence use in the "shift from an individual-clinical to a population-policy level" [28,29]. Their framework distinguishes between a modifiable internal context within which the decision-making process occurs and a broader, more fixed external context within which expert group decisions are to be applied. The internal decision-making context encompasses factors related to the purpose of the decision-making activity, group participants and processes used to arrive at decisions. The external decision-making context includes epidemiologic features of the health issue being addressed, extra-jurisdictional factors (e.g., experiences in other jurisdictions that may help inform decision-making), and political factors such as socio-economic and health system issues that may influence decision options [29]. According to this process-oriented model, both internal and external contextual factors impact on how evidence is weighed to justify decisions across the three stages of evidence utilization (i.e., the introduction, interpretation and application of evidence [28]). Although Dobrow and colleagues used their framework to study how provincial-level expert groups formulated health policy recommendations for cancer screening [28,29], the framework was intended to enhance understanding of evidence-based decision-making in the broad arenas of health and social policy [28].
As prenatal records play a central role in guiding and monitoring the delivery of prenatal care in Canada, it is critical that the decision-making processes underlying their content are made more transparent. This paper describes a multiphase, knowledge translation project that aimed to 1) describe and compare how prenatal records are reviewed and updated across different Canadian jurisdictions; 2) identify contextual factors influencing decision-making and evidence use during the process of prenatal record review; and 3) formulate recommendations for optimizing the prenatal record review process in Canada.
Methods
The project involved two data collection phases and a dissemination phase (see Figure
1
). Phase 1 comprised descriptive key informant interviews with prenatal record committee (PRC) leaders across 10 Canadian jurisdictions. Phase 2 involved a qualitative comparative case study of PRC decision-making in five of the 10 jurisdictions. Phase 3 consisted of a dissemination workshop with key stakeholders to review project recommendations arising from phase 1 and 2 data analysis. Ethics approval for the project was obtained from the Research Ethics Boards at each of the study co-investigators' affiliated university (i.e., University of Ottawa, McGill University, University of Calgary, University of Alberta and Laurentian University). All interviewees in Phases 1 and 2 provided written informed consent prior to their participation. Phase 1 and 2 interviews were conducted between June 2008 and March 2009, and the dissemination workshop was held in March 2010.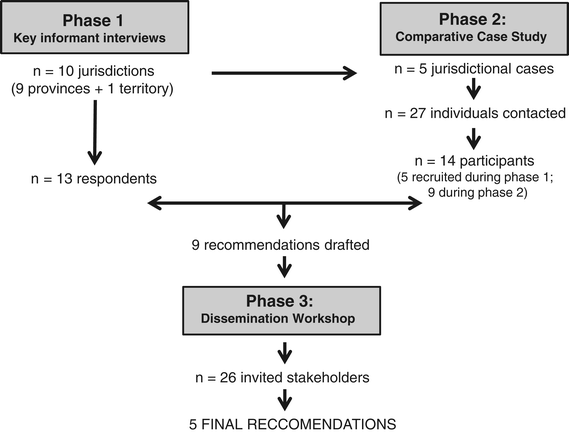 Phase 1: Key informant interviews with PRC leaders
The main research question for Phase 1 was: How are prenatal records developed, reviewed and updated across Canada? We conducted in-depth, semi-structured interviews with a purposefully-selected sample of PRC leaders (i.e., chairs, co-leads or coordinators) from all 10 Canadian jurisdictions that had developed their own prenatal record. PRC leaders whose names were in the public domain were recruited directly via telephone and/or e-mail; the others were solicited via letters or e-mails forwarded through the organizational bodies responsible for prenatal record review. Interview questions were informed by Dobrow and colleagues' conceptualization of the internal decision-making context and explored PRC views of the purpose of prenatal record review; PRC membership, mandates, and resources available to conduct the committee's work; methods used to access and review research evidence; and strategies used for obtaining committee consensus on proposed modifications to the prenatal record.
Interviews were conducted in English via telephone by two trained research assistants except for two conducted in French by SS. Interviews were audio-taped and transcribed verbatim; French transcripts were professionally translated into English prior to analysis. Descriptive content analysis of the transcripts was conducted to summarize the prenatal record review process within each jurisdiction and to identify commonalities and differences across jurisdictions. Two investigators (JO, BW) reviewed the Phase 1 transcripts and extracted all pertinent information related to the main interview questions. The findings were then summarized and tabulated in a matrix, and double-checked for accuracy by a research assistant who reread all the Phase 1 transcripts. We also retrieved paper copies of each jurisdiction's prenatal record as well as any accompanying user guides or assessment forms, to enable comparisons of specific content across jurisdictions and to facilitate understanding of interviewee's descriptions or explanations related to the use of the form.
Phase 2: Comparative case study of prenatal record decision-making
The main research question for Phase 2 was: What internal and external contextual factors influence evidence use during the prenatal record revision process? We used a qualitative multiple-case design with embedded units of analysis [30] to allow for in-depth examination of contextual factors influencing PRC decision-making. The "cases" were PRCs from diverse jurisdictions, and the "unit of analysis" was how and why PRCs made decisions about prenatal record content. We focused specifically on items related to maternal smoking and alcohol use as these address important predictors of infant health, vary across Canadian prenatal records [9,10] and represent controversial care issues that we hoped would reveal decision-making challenges. Based on the data obtained in Phase 1, we purposely selected five PRCs that varied in structure and review processes as well as the extent to which their jurisdiction's prenatal record incorporated evidence-based recommendations for maternal smoking and alcohol use. We considered integration of research evidence on maternal smoking to be "weak" if their prenatal record simply contained a yes/no question to assess current smoking status, and "strong" if the record contained additional questions addressing past smoking history or exposure to second-hand smoke, provided for on-going monitoring of smoking and/or prompted referral to smoking cessation resources. Similarly, integration of research evidence related to maternal alcohol use was considered weak if the record only contained a yes/no question for current alcohol use, and strong if the record further assessed drinking patterns or past drinking history and/or included a standardized alcohol screening tool such as the T-ACE (Tolerance Annoyance Cut Down-Eye Opener) questionnaire [31]. Cases 1, 2 and 3 had prenatal records with strong items for both smoking and alcohol use; Case 4 had a record with strong smoking but weak alcohol use items, and Case 5's record had weak smoking but strong alcohol use items. This matrix allowed for comparisons of PRC decision-making and evidence use both within and across the five cases.
The primary sources of data for the case study were in-depth, semi-structured interviews with members of the five selected PRCs, as well as any pertinent data about the PRCs' decision-making contexts gleaned during the phase 1 interviews. All PRC leaders recruited in Phase 1 from the five selected cases were invited to participate in the Phase 2 interviews. Other eligible participants were any core or ad-hoc PRC members who participated in the jurisdiction's most recent prenatal record review. These PRC members were recruited directly via telephone and/or e-mail (when their names were publically available) or via letters or e-mails forwarded through their PRC's organizational body or committee chair. Information about our study was also e-mailed to potential participants through professional colleagues, and via the Society of Obstetricians and Gynecologists of Canada (SOGC). All Phase 2 interviews were conducted in English via telephone interviews by trained research assistants; audiotaped; and transcribed verbatim. Guided by the framework for context-based evidence-based decision-making, the Phase 2 interview explored how, and what types of evidence (research or other) were considered as part of committee decision-making around prenatal record content during the jurisdiction's most recent review; factors influencing PRC access to research evidence as well as their decisions to apply (or not) this evidence; and broader contextual or health system factors that influenced PRC decision-making around prenatal record content. We inquired about how PRCs made decisions around maternal smoking and alcohol use items, as well as prenatal record content more generally.
Phase 2 interview data were analysed using both deductive and inductive content analysis techniques [32]. We developed a preliminary coding framework based on Dobrow and colleagues' conceptualization of the internal and external decision-making contexts. Interview data were reviewed and coded under the corresponding categories, and open-coding was used to capture any emerging categories related to evidence use during PRC decision-making. A graduate student coded all transcripts and created a memo summarizing salient reflections of each transcript. SS double-coded 40% of the transcripts to evaluate coding accuracy and refine the coding framework. Next, findings across participants from the same PRC were synthesized and integrated with any relevant data from Phase 1 into a detailed summary of decision-making processes for each case PRC. Finally, data were extracted into summary matrices to compare internal and external contextual factors influencing PRC decision-making across the five cases [33].
Phase 3: Dissemination workshop
Based on our findings from Phases 1 and 2, we drafted a set of nine recommendations with supporting rationales for enhancing the integration of evidence during the prenatal record review process across Canadian jurisdictions. We then held a full-day invitational symposium with key stakeholders to review and vet these preliminary recommendations. Invited participants included perinatal health researchers, policy-makers and association leaders from across Canada; as well as experts in public/population health, health surveillance and evidence-informed decision-making. We presented an overview of the project and its main findings, and provided each participant with a document containing the draft recommendations and their rationale. Participants were asked to rate each recommendation and supporting rationale for clarity, coherence and importance, on a seven-point Likert scale, and to provide suggestions for any modifications. Participants also engaged in small group work, facilitated by members of the research team, to discuss selected recommendations in more depth, consider strategies for implementation and provide suggestions for reframing recommendations with an action-orientation. Key points from the small group work were then shared among all participants, and used to shape our project's final recommendations.
Discussion
This is the first study we are aware of to examine decision-making processes underlying the content of standardized prenatal records. Our use of Dobrow and colleague's framework for context-based evidence-based decision-making [28] helped elicit a broad range of internal and external contextual factors influencing evidence utilization by PRCs and revealed the complexity of decision-making around prenatal record content. Our findings illustrate how PRCs sought to reconcile the competing functions of the prenatal record as a comprehensive clinical guide for a range of health indicators, a legal documentation tool, and a data source for perinatal health surveillance. Research evidence related to effective screening and intervening for maternal smoking and alcohol use was weighed against non-research evidence such as professional experiences and opinions, practical concerns about the length of the prenatal record forms, perceptions of prenatal care provider workload and skills, the availability of local referral resources, and public health pressures. Consistent with Dobrow and colleague's description of how expert groups developed population-based cancer screening recommendations [28], non-research evidence ultimately guided PRC decisions about the appropriateness and feasibility of implementing evidence-based screening recommendations within their jurisdictions. However the specific ways in which PRCs prioritized these diverse or conflicting considerations, and how consensus was reached on final decisions about what to include on the prenatal record forms, remains unclear.
In our findings and proposed recommendations, we highlight several important issues related to the development and updating of prenatal records. First, input from all relevant stakeholders and the use of systematic strategies for reviewing the extant literature and guiding group decision-making would help reduce potential biases in the prenatal record review process. We found little documentation of PRC membership or processes available in the public domain, raising questions about the transparency and/or accountabilities of PRCs across Canada. The PRCs we examined were clinician-dominated with sometimes little (or no) representation or supports from methodology experts to help evaluate research evidence, or other persons who could advise on other functions (e.g., surveillance) of the prenatal record. Previous studies of evidence use by clinical guideline groups have found that clinician-led decision-making favours professional values, expert opinion, and practical experience over research evidence [20,22,24,34,35]. Our study is also consistent with previous findings suggesting that group composition and professional hierarchies influence how guideline recommendations are formed [20-23], reinforcing the importance of attending to small group processes that may limit the contribution of minority or less-powerful group members. Representative stakeholder involvement along with processes to support constructive debates of the evidence would ensure more valid interpretation of the research evidence within the wider clinical and social context, as well as help PRCs negotiate the competing functions of the prenatal records in a way that maximizes benefits to patient and population health outcomes. Although our findings suggest larger, more inclusive committees were better equipped to review the available evidence, participants also mentioned the need to balance group size with efficiency. Eccles and colleagues noted that the desire for wide representation in guideline groups needs to be weighed against the need for a cohesive working group, and suggested between eight to ten members as optimal for a small group [36].
Findings underscore the importance of adequate resourcing of the work of PRCs, to allow for a systematic evaluation of the updated literature and adequate time for consultation and decision-making processes. Larger-scale guideline initiatives that involve stakeholders from practitioners to policy makers require sufficient time, commitment and resources to ensure effective communication with all concerned parties and to support their implementation [34]. We found surprisingly little infrastructure support for the prenatal record review process in some Canadian jurisdictions, particularly for the technical help needed to identify and synthesize research evidence. Studies of guideline development processes have found that time and resource constraints may limit discussions of research quality in favour of discussions of more pragmatic issues [37,38]. Our finding that resource-limited PRCs adopted prenatal items from other jurisdictions under the assumption that they were well-researched attests to the potential usefulness of a national process to define standards and items for prenatal records, based on the best available evidence that could then be applied across Canada. There is a need to identify optimal strategies for monitoring and updating prenatal records (e.g., full versus partial updating) [39,40] given the burden and duplication of PRC efforts across Canada. However, the potential for a national prenatal record raises other questions such as how PRCs would take contextual considerations into account when they review primary and synthesized sources of research evidence versus when they are using evidentiary-based guidelines proposed by others.
An additional key issue raised by our study was the relative lack of attention paid to the potential population health implications of prenatal record items, such as how they could be used to lever improvements in wider health care system characteristics (e.g., better referral systems for women with addictions) that might enhance the health of future pregnant women and infants. Although providing better care for population sub-groups such as Aboriginal women was identified as a consideration by some PRCs, none of the participants expressed PRC intentions to lobby for improvements to the health care system. Rather, limitations of the care system were identified as reasons for not making changes on the prenatal record forms. Perhaps this orientation of PRCs is related to a perception of their mandate, the large amount of work involved in reviewing many items, and the mix of items on the forms (some with more obvious implications for patient-provider interactions, others with wider implications for the health system).
PRC composition and decision-making around prenatal smoking/alcohol use items revealed a primary focus on the prenatal record as a tool for individual clinicians. The use of prenatal records as a legal documentation tool with the potential implications of missing data for clinician accountability may have accounted in part for PRC reluctance to include recommendations that were not feasible within the context of local health care resources [25].
In contrast to concerns about prenatal record use by clinicians, the role of the prenatal record as an important data source for perinatal health surveillance and the consequences of absent or poorly completed items for population health researchers (e.g., underestimation of the prevalence of smoking or high-risk alcohol use during pregnancy) appeared to be of less direct concern to PRCs. There also seemed to be a tension in deliberations about using the record for clinical versus population level goals. The issue of under-reporting of stigmatizing behaviors such as alcohol use during pregnancy is well-documented [41], and women's disclosure of substance use may be more accurate if the data remains confidential and is used for research purposes without being attached to a clinical record. As electronic record-keeping improves, other options for meeting clinical and surveillance requirements of the prenatal record may be possible. For instance, more in-depth data about tobacco and alcohol use (or other risk factors) could be electronically captured and diverted for population health and surveillance use only.
Although not explicitly identified as ethical considerations by participants, several domains of ethical issues were raised during interviews: a) professional ethics, i.e., how the prenatal record forms might aid clinicians to meet their professional obligations; b) patient ethics, i.e., how the inclusion of items on the forms might assist clinicians to optimize benefits and minimize harms to patients; and, c) population health ethics, i.e., how characteristics of the population, varying patterns of service access across population sub-groups and underlying factors that influence these access patterns should be taken into consideration in decisions about modifications to prenatal record items. For example, the underlying ethical dilemma of minimizing harms may have been a consideration in the integration of more comprehensive assessment questions about maternal smoking and alcohol use. A key barrier for discussing and documenting alcohol use in the perinatal period is not only clinicians' preoccupation with the dilemma of what to do with a positive answer (prompting the need to identify multilevel support and treatment for substance use and to engage in evidence-based and compassionate brief interventions), but also potentially adding to women's burdens by asking them about something that is highly stigmatized and for which child protection may become involved [42]. The need for attention to such ethical matters in the review process raises the importance of explicitly integrating a discussion of these ethical dimensions into decision-making by PRCs.
There was a surprising absence of discussion about governance and financing models in the Canadian health care system, and how these affected PRC choices about items for inclusion on the prenatal record forms. A number of participants made reference to issues of time constraints, busy clinicians and provider mix, which their PRCs had considered in reviewing practical limitations to the addition of assessment questions. However, underlying health system drivers such as fee for service models were not addressed. Clinician reluctance to "open Pandora's box" by asking about complex social issues during the limited time allocated to prenatal visits may have been an unspoken concern of the PRCs. Fee for service funding models may have broader implications for PRC discussion about pragmatics, the length of the prenatal record forms, trading off concerns about user buy-in with public health priorities and sources of clinician resistance to change. The potential influence of these more fundamental health system issues on the prenatal record review process needs to be made more transparent.
Finally, the impact of prenatal records as knowledge translation tools ultimately rests on individual clinician adherence to the record's guidelines, which will vary according to such factors as their perceived relevance or degree of sanctions for non-compliance with documentation on the forms [43]. The inclusion of evidence-based items to the prenatal record does not ensure their application and we do not know how quickly new prenatal care requirements generated by revisions to the tools get integrated into clinical practice. As modifications to the prenatal records provide opportunities for both retrospective and prospective natural experiments, future studies are needed to examine the actual use of prenatal records in practice, and the impact of prenatal record items on perinatal health outcomes at both the local and population levels.
There were several methodological limitations to this study. The number of participants was small and while purposively sampled, may or may not reflect the perceptions of other committee members. We also examined PRC decision-making using a retrospective, cross-sectional case study design. In some jurisdictions the prenatal record review process had taken place months or years prior to our interviews, therefore some participants may have had difficulty recalling specific details of their committee's decision-making process. There has also been a time lapse between the interviews and publication of our findings, and contextual factors related to PRC decision-making may have changed in some jurisdictions since our data collection (e.g., the adoption of electronic prenatal records). However, a re-review of all Canadian prenatal records conducted in January 2014 revealed that only one of the 10 Canadian jurisdictions involved in our project had modified their prenatal record content since 2009, and Canada still lacks a national process for prenatal record review. Future research should consider prospective designs using non-participatory observation of PRC decision-making [38,44], as well as a broader examination of how decisions are made about the varied content of prenatal record forms. For example, the translation of research evidence related to prenatal assessment of standard biomedical parameters such as maternal serum screening may be more straightforward. However, our findings related to prenatal screening for smoking and alcohol use exposed a range of factors that may be applicable to other complex and/or stigmatizing maternal risk factors such as maternal depression, conjugal violence, and healthy weight management. Many PRCs across Canada indicated that their most recent prenatal record review was driven in part by the need to include more content on the social determinants of health, suggesting the need for more guidance in this area.
Conclusions
Universal prenatal records are potentially powerful tools for the translation of best-practice evidence into routine prenatal care, and thus merit rigorous processes for ensuring the quality of their content. Decision-making related to prenatal record content needs to consider the multiple functions of the tool, and involves a negotiated effort to balance evidence-based recommendations with the needs and preferences of prenatal care providers, health system capacities as well as population health priorities. Broad stakeholder participation, systematic evaluation of the research evidence and formal strategies for arriving at group consensus are needed to reduce potential biases in PRC decision-making. The development of a national template for prenatal records could reduce duplication of work by PRCs in different Canadian jurisdiction and enhance the quality and consistency of prenatal care delivery and perinatal surveillance data across Canada.
Abbreviations
PRC:

Prenatal record committee
PH/RCPs:

Perinatal health or reproductive care programs
GP:

General practitioner
ObGyn:

Obstetrician/gynaecologist
FASD:

Fetal alcohol spectrum disorder
RA:

Research assistant
Declarations
Acknowledgements
This study was funded by a Canadian Institutes for Health Research (CIHR) operating grant (Knowledge Translation and Exchange). Sonia Semenic was supported by a Canadian Health Services Research Foundation (CHSRF) Postdoctoral Fellowship. Nancy Edwards was supported by a CIHR/CHSRF Chair Award in Nursing.
Authors' Affiliations
(1)
School of Nursing, McGill University, Montreal, Canada
(2)
University of Ottawa, Ottawa, Canada
(3)
Faculty of Nursing, University of Calgary, Calgary, Canada
(4)
Faculty of Medicine, University of Calgary, Calgary, Canada
(5)
Faculty of Nursing, University of Alberta, Edmonton Clinic Health Academy (ECHA), Edmonton, Canada
(6)
School of Nursing, Laurentian University, Sudbury, Canada
Copyright
© Semenic et al.; licensee BioMed Central. 2015
This article is published under license to BioMed Central Ltd. This is an Open Access article distributed under the terms of the Creative Commons Attribution License (http://creativecommons.org/licenses/by/4.0), which permits unrestricted use, distribution, and reproduction in any medium, provided the original work is properly credited. The Creative Commons Public Domain Dedication waiver (http://creativecommons.org/publicdomain/zero/1.0/) applies to the data made available in this article, unless otherwise stated.