Research article
Open Access
Open Peer Review
This article has Open Peer Review reports available.
Paradox of the institution: findings from a hospital labour ward ethnography
BMC Pregnancy and Childbirth
BMC series – open, inclusive and trusted
2017
17:2
Received: 30 June 2016
Accepted: 10 December 2016
Published: 3 January 2017
Abstract
Background
Interest in the influence of culture on birth practices is on the rise, and with it comes a sense of urgency to implement practices that aid the normalisation and humanisation of birth. This groundswell is occurring despite a broader cultural milieu of escalating technology-use and medicalisation of birth across the globe. Against this background, rates of epidural analgesia use by women in labour are increasing, despite the risk of side effects. Socio-cultural norms and beliefs are likely to influence pain relief choices but there is currently scant research on this topic.
Methods
This study was undertaken to gain insight into the personal, social, cultural and institutional influences on women in deciding whether or not to use epidural analgesia in labour. The study had an ethnographic approach within a theoretical framework of Critical Medical Anthropology (CMA), Foucauldian and feminist theory. Given the nature of ethnographic research, it was assumed that using the subject of epidural analgesia to gain insight into Western birth practices could illuminate broader cultural ideals and that the epidural itself may not remain the focus of the research.
Results
Findings from the study showed how institutional surveillance, symbolised by the Journey Board led to an institutional momentum that in its attempt to keep women safe actually introduced new areas of risk, a situation which we named the Paradox of the institution.
Conclusions
These findings, showing a risk/safety paradox at the centre of institutionalised birth, add a qualitative dimension to the growing number of quantitative studies asserting that acute medical settings can be detrimental to normal birth practices and outcomes.
Keywords
ChildbirthEthnographyEpidural analgesiaFoucaultMedicalisationMedical anthropologyMidwiferySurveillance
Background
Understanding of the influence of cultural beliefs on women's experiences of labour and birth has been increasing since Brigitte Jordan's seminal text Birth in Four Cultures [1] first explored the ways in which cultural expectations affect both the care given, and women's approach to birth. Such texts illustrate how wider cultural norms and accepted understandings of childbirth, technology and medical expertise help to shape not only women's knowledge of the birth process, but also their attitudes towards their bodies, their babies, and their birth experiences [2]. While culture is known to have an impact on birth understandings and practices [1, 3, 4], there is less research on the impact of culture specifically on the choice to use analgesia.
The use of epidural analgesia in labour continues to increase despite the fact that epidural use carries risks such as hypotension, longer second stage of labour, increased instrumental birth and decreased breastfeeding rates [5–14]. Walsh suggests that rising epidural rates are influenced by increasing technocratic values within a fragmented maternity system that leaves women feeling unsupported, alienated and frightened [15]. Interested in examining this problem from a cultural perspective, the focus of our research was therefore to examine meanings, practices, and choices in childbirth within a public hospital, by investigating women's use of epidural analgesia in labour. The research was undertaken with attention to wider social influences, such as the increasing value of, and reliance on, technology in the late capitalist economy, and the dominance of scientific discourse and its impact on gender constitution in general, and childbirth rituals in particular.
In this article, we use an intermediate social level of analysis to describe the dynamics of the hospital [
16
]. After a brief overview whereby we position the institution from the perspective of a critical methodology (CMA), we outline Foucault's identification of the medical gaze, and depict how institutional surveillance, the
Organisational technology
, was symbolised by the
Journey Board
. The
Institutional momentum
is then described, underscored by the concept of
Time in labour
and the ways in which practitioners worked within or resisted these temporal constraints. These themes are drawn together in the discussion to form one half of the concept of the
Paradox of the institution
(Fig.
1
). Space does not allow for discussion of the other half of the Paradox, the
Midwifery technology
, which will therefore be addressed in a separate paper.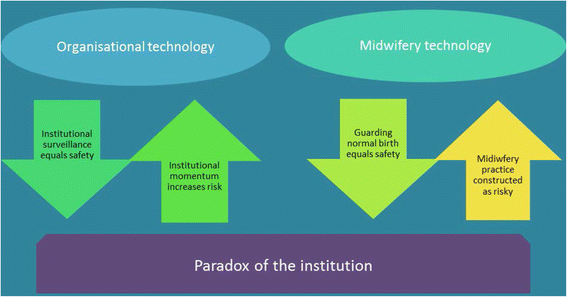 Methods
This study is situated within a growing body of midwifery research that continues to promote 'normal birth' [17–19], as well as contributing to sociological and anthropological theories about birth and motherhood [3, 20–23]. EN, supervised by LM and JP, used an ethnographic methodology, underpinned by Critical Medical Anthropology (CMA) and supported by Foucauldian and feminist theory, to critically examine routine epidural use by exploring the personal, social, cultural and institutional influences on women in deciding whether or not to use epidural analgesia in labour. Ethnographic research typically has a broad focus, and does not tend to specify a research question. Therefore, although increasing epidural analgesia uptake was the primary research problem, given the nature of ethnographic research as the study of culture, it was anticipated that epidural use would form part of a greater picture of birth culture, and may not, in fact, remain centre stage. From this perspective, EN examined concepts of birth pain and its relief, with a particular focus on the institution as an arbiter between the macro—socio-political norms— and the micro—individual decision-making and interactions.
In this article, we explore the data from the labour ward observation and using an intermediate social level of analysis which centres on institutional policy and decision-making processes (p. 96) [24], and how clinicians interact with these, as well as with each other, within the milieu of the institution. This analysis therefore focuses on the dominant cultural beliefs and practices within the institution—which centred primarily on risk management and client throughput—and the ways in which midwives and other clinicians articulated, negotiated, or resisted these norms, as well as the disciplinary mechanisms that were used to promote and uphold them.
Discussion
The lack of capacity within the labour ward (due largely to the effective surveillance engendered by the Journey Board) to 'allow women time' despite the attempts of various practitioners at 'playing for time', and the way in which the institution's momentum propelled women into interventions even if they did not actually require them, is concerning, and poses questions about the safety of this system. This risk/safety contradiction (putting women at risk in order to maintain their safety) exposed a hidden paradox (Fig. 1) which was further compounded by observations about the midwifery role.
The centrality of the Journey Board meant that women were under constant surveillance and often placed within time constraints by maternity personnel who also needed to maintain the safety and efficiency of the institution—competing needs, against which the women often lost. However, the way in which people have perceived time has changed according to social and cultural understandings. With industrialization, there was a shift towards linear time as the clock became a symbol of the discipline of the factory's 'social relations of production' (p. 100) [64] and factory rhythm replaced agrarian labour and cottage craft rhythm, which was more cyclical and seasonal [61, 64]. The change of location to the hospital as the primary site of birth echoed these wider social circumstances, such as increasing industrialization and factory work, and the corresponding reliance on the regular, systematic and linear management of time by the clock [65]. Martin equates the phases of labour (in birth) to a production line in a factory whereby deviation from normal 'rates' of labour equals disorder (p. 59) [22]. She observes that women, 'grounded whether they like it or not in cyclical bodily experiences, live both the time of industrial society and another kind of time that is often incompatible with the first' (p. 198) [22]. The freedom of organising time in a rhythmical or cyclical way was lost with the changes in the time measurement, and this was apparent in the comments of the midwives in the study.
Stevens observed that although reliance on clock time, including ordering and monitoring labour progress by this mechanism, served to 'create order out of chaotic situations' and give the impression of 'efficiency', it ultimately prohibited any kind of individualized or unique expression of time in labour (p. 111) [55]. Despite a philosophy of 'being with' women, institutional demands and a focus on linear time have been shown to impact midwifery practice [52], sparking a tendency to value being 'on time', according to the institutional rhythm, rather than 'in time', or spending relational time with women [39]. Maher proposes a middle ground to the experience of time, between linear and cyclical [66]. In keeping with Deery's depiction of being 'in time' with women [39], Maher describes a 'time in process', as women appreciate and engage with the embodied 'forward movement towards the birth of the baby' (p. 136) [66]. A focus on embodiment may be a way forward and deserves more exploration.
Hill describes how early factories were initially no more productive than the cottage industries they replaced, but allowed more control over the labour force. However, as these technologies came to 'frame' Western thought about work, it has become impossible to conceive of the organisation of labour outside of an industrial or corporate 'frame'. This is allegorical to the reframing of birth within the medical model and the way in which science and medicine have constructed women's bodies as risky; marked out and attempted to eradicate the competing and rival discourse of midwifery; and situated birth in hospitals despite the fact that hospitals were not, to begin with, any safer [34, 67, 68]. Industrialized birth has therefore become the frame through which childbirth is perceived.
Critique of the industrial nature of maternity institutions is not new; however, it's identification as a potential risk to women is relatively recent. It came to global attention in late 2014 when the National Institute for Health and Care Excellence (NICE) updated guidelines for antenatal care recommended that women in labour be informed of the increased risk of intervention when birthing in an obstetric-led labour ward compared to a midwifery-led unit [69] following the results of the UK Birthplace study [70]. Although our research is not generalisable, and cannot identify definitive causes, it does give a deep, localised account of hospital birth culture and in this sense the knowledge gained is transferable; providing qualitative support to the extant quantitative data which show that medical settings may no longer be adequate as the primary birthplace for the majority of women. In addition, in our attempt to trouble ideas of risk and safety and the relationship of the institution to normal birth, we have focused on a particular view of the institution; one that we hope is understood as a way towards re-visioning birth rather than a simplistic critique of hospital birth per se.
Conclusion
In this article we have delineated the cultural setting of a hospital labour ward and shown how the institutional 'framing' of birth, with its risk-orientation, reliance on technology, and medical understanding of birth as something that requires 'fixing' influenced the hospital birth apparatus. The mechanics of this apparatus were upheld by a panoptic disciplinary power, Organisational technology—symbolised by the Journey Board—that served to maintain an institutional momentum within which women and midwives were expected to conform. This momentum was recognized by midwives and doctors as having its own impetus and they practised in ways which sometimes resisted it and at other times surrendered to it. While the hospital managed actual complications very well, and this is not to be downplayed, it had a contradictory effect on normal, physiological birth; the momentum of the institution potentially placed women at risk by ignoring both birth physiology and women's individual needs, while purportedly upholding their safety, revealing an inherent institutional paradox which mirrors the risk/safety paradox in the wider medical discourse.
The intermediate-social level analysis described in this article situates the institution as a formidable conductor of dominant birth discourse, with a strong surveillance apparatus in place. The Paradox of the institution identifies the hospital labour ward as a setting that can place women at unnecessary yet covert risk, and provokes questions as to the relevance and safety of institutional birth in the postmodern age. The implementation of alternative childbirth settings, such as freestanding, midwifery-led birth centres should be considered a matter of priority.
Abbreviations
ARM:

Artificial rupture of membranes
CMA:

Critical medical anthropology
CTG:

Cardiotocograph
GBS:

Group B streptococcus
GD:

Gestational diabetes
IOL:

Induction of labour
LSCS:

Lower segment caesarean section
MET:

Medical emergency team
SOL:

Spontaneous onset of labour
SRM:

Spontaneous rupture of membranes
Synt/o:

Syntocinon
T/L:

Team leader
VE:

Vaginal examination
Declarations
Acknowledgements
The authors would like to acknowledge the women, midwives and doctors who took part in this study. We would also like to thank the comments of the reviewers, which greatly improved the manuscript.
Funding
EN was in receipt of a University of South Australia postgraduate award scholarship while undertaking this research.
Availability of data and materials
The datasets analysed during the current study are available from the corresponding author on reasonable request.
Authors' contributions
EN coordinated the research project, data management and analysis, and the writing of this paper. LM and JP supervised the project from its beginning to end, assisted in study design, data analysis and validation, and participated in drafting the manuscript. All authors read and approved the final manuscript.
Competing interests
The authors declare that they have no competing interests.
Consent for publication
Not applicable.
Ethics approval and consent to participate
Ethics approval was obtained from the University of South Australia Human Research Ethics Committee and the Human Research Ethics Committee of the health service. The women recruited into the study were given participant information sheets and gave written consent. Consent for EN to attend the birth as an observer was gained during the interviews, and women were made aware that they could change their mind at any time. Six (of the sixteen) women consented to EN's presence during their labour and birth. The hospital clinicians were informed of the study during several information sessions and at staff handovers, as well as other hospital communication channels such as staff email and ward communication books. Hospital staff were given the opportunity to opt-out of the observation. During the observation phase of the study, no-one signed an opt-out form and midwives and doctors spoke freely to EN about their thoughts and experiences.
Open AccessThis article is distributed under the terms of the Creative Commons Attribution 4.0 International License (http://creativecommons.org/licenses/by/4.0/), which permits unrestricted use, distribution, and reproduction in any medium, provided you give appropriate credit to the original author(s) and the source, provide a link to the Creative Commons license, and indicate if changes were made. The Creative Commons Public Domain Dedication waiver (http://creativecommons.org/publicdomain/zero/1.0/) applies to the data made available in this article, unless otherwise stated.
Authors' Affiliations
(1)
School of Nursing and Midwifery, University of South Australia, Adelaide, Australia