Research article
Open Access
Open Peer Review
This article has Open Peer Review reports available.
Concurrent analysis of choice and control in childbirth
BMC Pregnancy and Childbirth
2011
11:40
Received: 2 November 2010
Accepted: 1 June 2011
Published: 1 June 2011
Abstract
Background
This paper reports original research on choice and control in childbirth. Eight women were interviewed as part of a wider investigation into locus of control in women with pre-labour rupture of membranes at term (PROM) [1].
Methods
The following study uses concurrent analysis to sample and analyse narrative aspects of relevant literature along with these interviews in order to synthesise a generalisable analysis of the pertinent issues. The original PROM study had found that women experienced a higher degree of control in hospital, a finding that appeared at odds with contemporary notions of choice. However, this paper contextualises this finding by presenting narratives that lucidly subscribe to the dominant discourse of hospital as the safest place to give birth, under the premise of assuring a live healthy baby irrespective of their management type.
Results
This complex narrative is composed of the following themes: 'perceiving risk', 'being prepared', 'reflecting on experience', maintaining control' and relinquishing control'. These themes are constructed within and around the medical, foetocentric, risk averse cultural context. Primary data are presented throughout to show the origins and interconnected nature of these themes.
Conclusions
Within this context it is clear that there is a highly valued role for competent health professionals that respect, understand and are capable of facilitating genuine choice for women.
Keywords
Choicecontrolpregnancynarrativequalitativegeneralisableconcurrent analysis
Background
The concept of choice as an integral aspect of contemporary heath care policy is now relatively well embedded. Current maternity policy [2, 3] advocates choice and control for childbearing women equating these elements to both a better quality of experience and improved outcomes. Choice, however, would seem less straightforward than policy assumes. Choice is an act, which requires intimate connections between reason and rationality, a weighing up of risks and benefits and an ordering of preferences based on their utility [4]. It is feasible to suggest that because outcomes during pregnancy and birth are uncertain, that women may consider choice not only to be about desires for a certain birth experience but also a gamble.
Whilst women appear to desire choice in maternity care, it is important to recognise that women make choices for a whole set of often complex reasons. However, we also know that choice is constructed through pervading belief systems and resources [5]. Perceptions of risk, defined predominantly by medical experts, have mapped out what a 'responsible' decision should be and to question or ignore those definitions of risk is to be labelled a 'bad mother' [6]. This is lucidly illustrated by findings, which demonstrate that the majority of women, continue to cite hospital 'as the best place to give birth' and make choices accordingly [7]. Safety is a key issue in maternity care and despite the fact that childbirth has never been safer in the developed world, in terms of mortality, and the safety of labour and birth at home has been established [8], fear of birth amongst mothers remains [9, 10].
Evidence seems to suggest that the constructs of choice and control are intimately connected for women with regard to pregnancy and their childbirth experience. The opportunity for greater choice over care allows more involvement with decision-making and impacts on a woman's feelings of control, with control being significant in terms of women's satisfaction with their birth experience. Women who choose home birth often claim to do so under a premise of retaining control [11, 12]. For example a randomised control trial (RCT) by Martin & Jomeen (2004) [1] investigated home versus hospital management of women with a prelabour rupture of membranes (PROM). They found women in the hospital group displayed higher internal locus of control scores than those in the home group at the onset of labour or prior to induction of labour. This suggests that being in hospital facilitated greater feelings of women's personal control at that point in time than being at home, a finding which seemed counter-intuitive in light of other evidence.
In order to elucidate this finding qualitative interview data was also collected from some of the women who had already consented to and been part of the RCT. Separate ethical consent, for this aspect of the study was obtained from the Local Research Ethics Committee. Women were selected on the basis of being involved in the PROM trial, with babies no older than a year. Initial contact was by letter and then telephone, thirteen women initially responded but only nine were available to be interviewed within the time scale of the study. The interviews adopted a conversational approach with the aim of generating narrative data. Interviews were arranged at the convenience of the women and took place in either home or hospital settings dependant on the woman's preference. All interviews were tape recorded and transcribed verbatim. The content of the interviews was determined initially by the women's experience of being part of the PROM study, however women actually narrated much broader stories of their recent and previous birth experiences to explain their feelings. Narrative themes were then identified using a comparative process and composite stories representative of the women's experiences were developed.
One potential interpretation of the PROM study findings was that control was being conceptualised differently for the hospitalised women and linked to the 'safety net' of the hospital. A first reading of the qualitative data appeared to potentially contradict that interpretation. That is, women appeared to tell stories which reflected their appreciation of being given the choice to go home, of being more relaxed at home and consequently experiencing heightened perceptions of control. However the interview narrative provided enlightening reasons as to the apparently contradictory findings. Women's narrative despite displaying a positive attitude and experience in relation to home management, illustrated the embedded nature of the medical model of childbirth and the pervasive nature of the construct of risk. This is turn led to a subsequent subordination of women's own needs to those of the baby wherever necessary. Narratives of those women who stayed in hospital, felt a sense of control because they perceived an assured safety of their baby through staying in hospital. In contrast those women who went home, despite being given permission, were always troubled about whether being at home would compromise the safety of their baby and hence felt less in control at the onset of labour. In relation to choice and control women are simultaneously assigned active and passive roles, Despite a desire to articulate their wishes, a lack of ownership of their pregnant and labouring body's does not enable them to do so. This paper seeks to enhance and extend the seemingly disparate findings of the quantitative and qualitative aspects of the PROM study.
Methods
Concurrent analysis (CA) is a new methodology designed with the purpose of increasing the generalisability of qualitative findings. Whilst this aim is not new, CA differs from recent approaches to qualitative synthesis [13–15] by integrating interview data specifically gathered by the researcher. This ensures the product of analysis remains focused on answering a specific research question but extends the generalisability of the findings by conducting the literature review as part of the data collecting process.
The thinking behind this is developed in detail elsewhere [16] and demonstrated in practice within a constructivist grounded theory methodology [17]. In brief CA removes any delineation between similarly constructed data. It treats aspects of the literature as primary data where the focus of the literature is equivalent to other primary data under study. For example if the researchers ask questions about choice in childbirth and other researchers have published studies about the same topic then these data can be treated as conceptually equivalent.
The need for CA arose from recognition of 2 separate but interrelated positivist remnants in the qualitative literature:
1.

Grounded theory retains a 'before or after' argument about when to engage with literature. This argument is grounded in issues of bias, yet bias is irrelevant to a constructivist explanation of a social process.

2.

Metasynthesis potentially excludes important but 'low level' qualitative research such as case studies. These important studies are rated as low level as an artefact of quantitative hierarchies. These hierarchies may be irrelevant to qualitative questions, where a case study may be the best and most appropriate methodology. Excellent research may therefore be excluded erroneously from even the best metasynthesis.
Concurrent Analysis therefore synthesises primarily through inclusion of all relevant material. Exclusion criteria are not based upon methodological type but methodological quality. In this study, where narrative or description was reported first hand and related to issues of choice in childbirth this data was considered appropriate for concurrent analysis. Narrative and descriptive data existed in the literature comparable with the interview data. No distinction was subsequently made in ascertaining themes. Thematic analysis involved first highlighting the relevant sections of text or interview related to the issues of choice and control in childbirth. The next part of the analysis involved extracting codes (meaning units) from these data. Codes were then compared with each other to ascertain contextual and conceptual similarities and differences. For example categories of thoughts or behaviours could be indentified related to feelings about perceived risk in childbirth. These codes and categories were then compared with each other to ascertain depth and breadth of the decontextualised issues.
Despite the inclusive nature of the method it was important to ensure the analytic process remained robust. To this end only peer reviewed high quality literature was selected for analysis. It is recognised that global criteria for judging quality of qualitative research are problematic due to the differing philosophies underpinning the differing methodologies under this umbrella. There is wide agreement however that qualitative research should be ethical, important, clearly articulated and use appropriate, rigorous methods [
18
]. The papers analysed here have met these criteria. In the original PROM study 8 interviews were undertaken with women regarding their experiences of home and hospital approaching childbirth. The focus of the interviews was on exploration of their feelings using a narrative analytic approach. The literature was searched for comparable narrative exemplars (Table
1
).
Table 1
Literature search, inclusion and exclusion criteria
Search Criteria

Returns

CINAHL

In abstract: (Labour OR labour OR childbirth) AND pregnan* AND narrative AND choice AND control

41 articles

Pubmed

(Labour OR labour OR childbirth) AND pregnan* AND narrative AND choice AND control

55 articles

ProQuest

(Labour OR labour OR childbirth) AND pregnan* AND narrative

20 articles
Table
2
presents summary data from papers that contained relevant first hand narrative.
Table 2
Literature summary
Author(s)

Sample

Methodology

Munro et al, 2009 [20]

17 primiparous women in British Columbia,

Canada.

Semi structured interviews: exploratory qualitative study

Fenwick et al, 2008[10]

14 women who had requested a caesarean section in their first pregnancy in Australia

Telephone interviews: exploratory descriptive approach:

Kennedy et al, 2009[21]

234 women during the postpartum period in US

Qualitative interviews: narrative and thematic analysis

McCourt &Pearce, 2000 [22]

20 UK women receiving different models of maternity care

Semi-structured narrative interviews at 6 months postnatal

Houvouras, 2006[23]

15 postpartum women in US

Active and feminist interviews: Constructivist grounded theory

Parry, 2006 [24]

Personal reflection and 8 women in Canada, 1 in US (7 pregnant, 2 postpartum)

Personal ethnography and interviews: narrative presentation

Crossley, 2007[25]

Single case study in UK

Personal reflection, unfolding narrative: exploratory qualitative design

Shaw, 2007 [26]

Critical response to Crossley (2007)

Personal reflection grounded in doctoral thesis data

Stokhill, 2007 [27]

Critical response to Crossley (2007)

Personal reflection grounded in autoethnography

Namey & Lyerly, 2010 [28]

72 US women who as part of a larger study had spontaneously mentioned control

Semi structured interviews: Concept analysis

Hall & Holloway, 1998[29]

9 UK women who chose to give birth in water

In depth interviews analysed using grounded theory

Walker. 2005 [30]

32 UK women who had delivered in a midwife led care unit

In depth focused interviews, analysed using grounded theory

Viisainen, 2001[31]

21 women and 12 partners of women who had planned a home birth in Finland

Semi structured interviews, narrative and thematic analysis

Viisainen, 2000 [32]

21 women and 12 partners of women who had planned a home birth in Finland

Semi structured interviews, narrative and thematic analysis

Morison et al, 1998[8]

10 couples who had a home birth in Australia

Interviews and homebirth video observation: phenomenological approach

Morison et al, 1999[33]

Kontoyannis &Katsetos, 2008[34]

12 women who had experienced planned home birth in Greece.

Semi structured interviews: phenomenology

Kennedy &Shannon, 2004 [35]

Purposive sample of 14 midwives in US

Interview data: Narrative analysis

Lynn Clark et al, 2003[36]

Childbearing women in US, Scandinavia, Middle East, China and Tonga (n = 100)

Secondary analysis of narrative transcripts

Lundgren & Dahlberg, 1998[37]

Nine women, four primiparous and five multiparous who were two to four days post delivery.

Interview data: Narrative analysis with phenomenological interpretation of meaning

Halldorsdottir & Karlsdottir, 1996[38]

14 postnatal women in Iceland

Interactive interviews: Phenomenology

Maher, 2008[39]

10 postnatal women between 3 and 12 months in Australia

Semi-structured interviews: Narrative based approach

McCallum & Reis, 2005[40]

26 women admitted for childbirth in Brazil

Participant observation and semi structured interviews: ethnographic and narrative analysis

Liamputtong, 2009 [41]

15 middle class mothers, 15 lower class mothers in Thailand

Semi structured interviews: phenomenological thematic analysis
The local NHS ethics committee approved the qualitative aspect of the PROM study as an extension to the original PROM study [1, 19]. Permission was granted by the Hull and East Riding Local Research Ethics committee.
Results
All the data were subject to constant comparison in order to facilitate thematic analysis [
42
]. NVivo 8 was used in the early part of this process in order to maintain oversight of the burgeoning codes and memos. The model in figure
1
was developed and refined throughout a series of discussions between all authors [
43
]. This was an iterative but reflexive process [
44
] aimed at parsimony whilst retaining overt connection to the primary data. Whilst clearly utilising aspects of grounded theory within the analytic process the product is not claimed to be a grounded theory as the inclusive nature of the sampling meant that ethnographic, phenomenological and narrative analytic data were included where possible.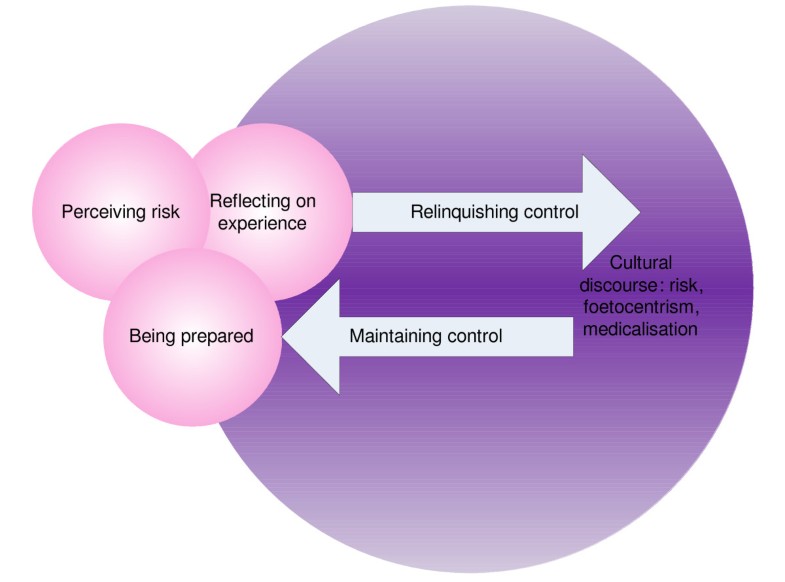 Figure 1 illustrates the interconnected nature of the final themes emerging in this study. The three small circles represent the dominant themes present in the individual women: 'perceiving risk', 'reflecting on experience' and 'being prepared'. The arrows describe the issues pertinent to maintaining or relinquishing control during childbirth, and the large circle represents the context, the dominant discourse. For ease of discussion the individual themes are considered separately in the first instance to illustrate how they arose from the data. Detailed exemplars accompany this discussion.
Discussion
The narrative themes identified here can be resolved into one complex narrative revealing the continued dominance of medical discourse within maternity care and its continued permeation of the culture of maternity care which in turn continues to subordinate women. The interaction of women's own feelings with the cultural norms of maternity care alongside their continued subordination to the maternal principle fostered by western patriarchal society presents an illuminating picture of women's contemporary childbirth experiences.
One of the difficulties of the choice premise is that it engenders responsibility for the choices made [54]. This is particularly pertinent in maternity care where the stakes are so high and women are explicitly bound by the consequences of making the wrong choices. Choices, it seems, are made with notions of control inherently embedded and the desire and/or willingness to relinquish control to experts is overwhelmingly lucid in women's accounts, irrespective of who that expert may be. So whilst women engage with expert accounts in many guises to inform choices and enhance their sense of control during labour and childbirth this often fails to translate to a level of personal expertise that can effectively challenge the dominant discourse. The extent to which this should be facilitated is similarly complex but is currently grounded in paternalistic benevolence as opposed to open discussion as evidenced by the experiences of women who challenge this dominant discourse by opting for a home birth. These findings reinforce Edwards' [5] claim that choice is constructed through pervading belief systems and as long as foetocentrism predominates the status quo is likely to persist, as a healthy baby trumps all previous violations [25] and the end justifies the means.
This point is not new. Early feminist writers such as Oakley [46] highlighted such tensions thirty years ago. Indeed the fact that the literature utilised in this study spans well over a decade suggests the reality of choice for women in childbirth continues to contest the rhetoric. However the original contribution of this paper is the identification of a generalisable process grounded in international literature. Global evidence has been gathered here and synthesised showing that positive experience in childbirth is related to the amount of control experienced by the mother. This control is individually experienced and constructed from local narratives grounded in the dominant discourse. If the dominant discourse offers choice then this can only be facilitated if it is a genuine choice. This paper has shown that control can subsequently be supported by skilled health professionals who respect and understand the importance of choice in the birth process and have the capacity to help. This is best articulated by Kennedy et al's [35] study of expert midwives:
... impressing upon families that you are there for them while they're in labor. I think that's so essential, because if you set someone up to believe that this is possible, and there's no one there who can carry that out, [then] they're left in the hands of unskilled professionals who don't know how to facilitate normal birth, and that's not fair. [[35], emphasis added]
A criticism levelled at qualitative research in general often pertains to issues of interpretation and bias in particular, even from its own protagonists [55]. Although this criticism confounds quality issues within paradigms it is widely agreed the sample, methods and analysis should be transparent in order to offset any such claims. One critique of the interview sample is that these women were managed at home as part of an RCT rather than making a choice for home management of labour. However, these women made a choice to take part in the study which implies they saw home management as an attractive option. This limitation is also offset by the incorporation of interview data from the literature which gave the opportunity to evidence these themes within a much wider sample. The 24 studies presented selected quotes from a total sample of 656 women.
The widening of the sample to offset claims of interpretive bias links to a different criticism that questions the coherence and desirability of generalisable qualitative research. Regarding coherence, in analysing ethnographic, grounded theory, phenomenological and narrative analytic data together it could be claimed the product is epistemologically inconsistent. However, the data analysed here was primary data as presented within those paradigms. Although different researchers may have chosen to present different narrative exemplars within their methodologically distinct papers, this does not prevent further analysis of those exemplars. There may have been narrative exemplars contradicting the interpretation here, but they were not published. Regarding the desirability of generalisable qualitative research, this depends on the purpose of the research. If the purpose of research is to inform clinical practice then raising the generalisability of the findings is the best way to influence policy, guidelines and practice [56]. If the purpose of the research is to be ontologically distinct then concurrent analysis may rightly be considered a pragmatic approach.
Conclusions
The original study [1, 19] found women to express higher levels of internal control when hospitalised following PROM. Whilst this appeared at odds with other literature in this field, the qualitative findings offered illuminating reasons as to why this might be the case. The women in the qualitative element of the study lucidly subscribed to the dominant discourse of hospital as the safest place to give birth, under the premise of assuring a live healthy baby irrespective of their management type. The integration of the interview narratives with other women's experiences, using concurrent analysis, establishes confidence in the original assumptions and interpretations made as well as offering a broader, richer and nuanced depiction of the complexity of women's experiences of choice and control in childbirth.
Declarations
Acknowledgements
We would like to thank the childbearing women of Hull who willingly elected to participate in the interviews from which the data was extracted.
Authors' Affiliations
(1)
Research Fellow in Psychological Care and Therapies and Lecturer in Mental Health Nursing. School of Health, Nursing and Midwifery, University of the West of Scotland, Paisley, UK
(2)
Professor of Mental Health. School of Health, Nursing and Midwifery, University of the West of Scotland, Ayr, Scotland, UK
(3)
Associate Dean Research and Scholarship. Faculty of Health and Social Care, University of Hull, England, UK
(4)
Senior Lecturer, Department of Community, Women and Children's Health, The School of Health, Glasgow Caledonian University, Scotland, UK
Copyright
© Snowden et al; licensee BioMed Central Ltd. 2011
This article is published under license to BioMed Central Ltd. This is an Open Access article distributed under the terms of the Creative Commons Attribution License (http://creativecommons.org/licenses/by/2.0), which permits unrestricted use, distribution, and reproduction in any medium, provided the original work is properly cited.