Editor Profiles
Tovah has been an Editor for BMC since 2016 and has been working on BMC Pregnancy and Childbirth since 2017. Before moving into publishing, Tovah received her Ph.D. from Johns Hopkins University, USA, where she studied calcium signaling in yeast, developing a novel microscopy probe for real-time measurement of calcineurin activity. An early fascination with Punnett squares lead to a focus on genetics, which then broadened into an interest in the communication and application of scientific research across disciplines. Tovah is an editor for the BMC series blog and is interested in promoting best practices in health care.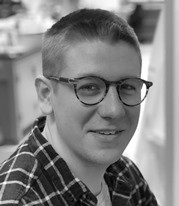 Oliver has been Manuscript Editor for the BMC Series journals since October 2019. He has a Bachelor degree in Biology and a Master by Research degree specialised in Behavioural Ecology and Reproductive Evolution, both from the University of Lincoln. Here he studied the effect of Life history evolution and female reproductive architecture on spermatozoa diversity across complex mating systems before moving to Syracuse, NY to continue his research by using integrative molecular approaches at the Center for Reproductive Evolution. He then joined the BMC Series as an Assistant Editor in September 2018 and is excited to continue to work for the BMC Series journals, driving the development of Open Access as Manuscript Editor.
Maternal health and pregnancy
Asma Khalil is a Reader and Consultant Obstetrician at St George's University of London. She is a subspecialist in Maternal and Fetal Medicine and leads the Multiple Pregnancy Service at St George's Hospital, London. Her research interest is hypertensive disorders of pregnancy, assessment of fetal growth, multiple pregnancy, stillbirth and maternal haemodynamics. Asma gained her MD at the University of London following two years' research into pre-eclampsia. She also has an MSc in epidemiology granted from the London School of Hygiene and Tropical Medicine. She has published more than 100 peer reviewed research papers in medical journals and more than 20 review articles and chapters in textbook. She has more than 16 international and national research awards. Asma is an active member in a number of key scientific committees, such as the ISUOG Clinical Standards, the RCOG Scientific Advisory Committee and NICE Quality Standards.
Breastfeeding

Vishnu Khanal has completed his PhD (infant nutrition and maternal health) from Curtin University, Western Australia. Prior to PhD, he holds Maser of Public Health (Applied Epidemiology and Biostatistics), and Master of Sociology. He has worked in maternal and child health programs for more than five years before his PhD. His research interests include breastfeeding, international health, maternal and child health, and nutrition. He is currently affiliated to Nepal Development Society, a leading research organisation in Nepal. He joined BMC Pregnancy and Childbirth in 2014 and has been contributing since then.
Maternity care and sociological aspects of pregnancy and childbirth

Professor Hora Soltani holds the Chair of Maternal and Infant Health in Sheffield Hallam University. She is a Section Editor for BMC Pregnancy & Childbirth, Co-Chair of the International Confederation of Midwives -Research Standing Committee (ICM-RSC) with a history of working as an advisor for the World Health Organization on several guideline developments, and as a member of Human Reproduction Programme Alliance for Research capacity Strengthening and Steering Committee. Through her 20 year research experience, she has led interdisciplinary projects in collaboration with a wide range of disciplines from "Design and Technology, Psychology and Nutrition Sciences" whilst retaining a thematic integrity with the core aim of enhancing care standards and reducing health inequalities for mothers and their babies. Using both qualitative and quantitative approaches, her main areas of research include postpartum haemorrhage, weight and physical activity during pregnancy and maternity care models particularly for vulnerable groups of women (e.g. those with obesity, of young age or from ethnic minorities).
Pregnancy and childbirth in low and middle income countries
Jos van Roosmalen is emeritus professor of Safe Motherhood and Health Systems at VU University Amsterdam and a retired consultant obstetrician in the department of Obstetrics, Leiden University Medical Center, the Netherlands.
He published extensively on Safe Motherhood issues in low and high income countries and is a (co-)promotor of 25 Safe Motherhood theses, written by students of both the Northern and Southern hemisphere. He is a Section Editor of BMC Pregnancy and Childbirth.
Among many credentials, he is a founder of the Dutch Working Party for International Safe Motherhood and Reproductive Health (since 1987), he was the Chairman of the Maternal Mortality Audit Committee of the Netherlands Society of Obstetrics and Gynecology (2001-2016) and a co-founder of the International Network for Obstetric Survey Systems (INOSS) in 2010. He was a board member of the Netherlands Society for Tropical Medicine and International Health (1992-1998). He acted as technical advisor to WHO for Maternal Near Miss (2015) and Maternal Sepsis (2016). He works as a consultant for CCBRT Capacity building for emergency obstetric care in Dar es Salaam, Tanzania and for WLF's Maternity care project Thamini Uhai in Tanzania.